The Apple pencil, paired with the new ipad 7, is a fantastic combination of tech. These two make up my daily driver for reading, taking notes, surfing the web…pretty much most of my day-to-day tasks run through the iPad. When I first heard of the iPad, it honestly didn't really appeal to me. It just seemed like an oversized IPhone. This all changed for me when I first came across the Apple pencil.

The pencil is the secret sauce to the iPad. This is what made the iPad something valuable to my day-to-day workflow. The Apple pencil allowed me to do a lot more with my iPad. It allowed me to be able to draw in procreate, easily edit photos and just do a lot of little things that typically would be a little bit clumsy.
Price Point vs. Apple Pencil

Now the downside of the pencil, like a lot of Apple products, is its price point. Starting at $99 for the first generation and $129 for the second generation, it really turns off a lot of people from buying that extra pencil. Thanks to the magic of Amazon though, it's now easier than ever to be able to find a cheap alternative to the Apple pencil. There're a lot of alternatives on Amazon that are honestly not worth your time. The one that I did see to be the most beneficial, was one called the Fojojo stylus pen. Even though it sounds like a Power Puff girls villan, the Fojojo stylus pen is the one that I've honestly seen to be the best alternative to an Apple pencil.



This pen only costs $39.99 on Amazon right now. I bought it just to try it out, but I never sent it back, because I was really impressed!  The pen has a design that's more similar to the Apple pencil 2 than it is to the Apple pencil one. It charges via a USB C charging port, which is less expensive than the charger for the Apple pencil 2 (which happens to be the $1000 Ipad Pro). It's also a lot less awkward than the charging mechanism for the Pencil 1.
Design and Features
The weight is very evenly distributed. It's not too heavy, not too light, it just feels really good in the hand. When it comes to writing with a tablet, having a pen that has palm rejection, makes your life so much easier. Without palm rejection, you have to write at such awkward angles, because you can't rest your palm on the screen or else the screen will just go everywhere. This pen has really good palm rejection, which allows you to be able to rest your hand on the screen as you're writing. This allows you to have a great experience writing on your tablet. I haven't been uncomfortable writing with this pen. The palm rejection makes it super easy to write on that screen without things just going wonky.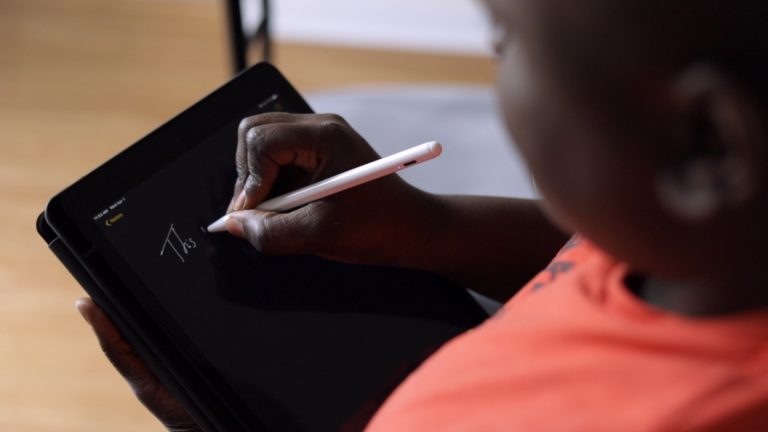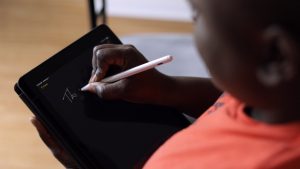 The pen can be toggled on and off by tapping the top of the pen. This is a really cool feature, which allows you to be able to turn it on or off and save some battery life. The battery life itself is rated to last about 20 hours of work time and can last up to 90 days on standby power.
Conclusion

So, if you've got a new iPad and you're thinking about buying the Apple pencil, go ahead and try this Fojojo stylus pen. Before you drop $120 dollars or $100 on an Apple pencil, this pen may be able to save you a decent amount of money. It can do a lot of the same things, it's got awesome palm rejection, awesome battery life and is a great alternative to Apple pencil.